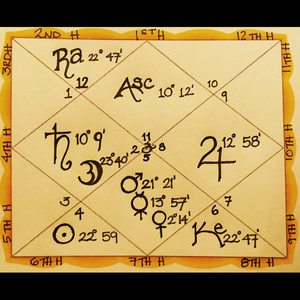 The Real John R Fyfe
Vedic Astrology Reading ~ 60 minutes ~
The Systems Approach to Vedic Astrology is a fantastic, accurate system for analyzing your birth chart, your personal blueprint.
The Vedic System indicates when the favourable periods will enter your life and when the challenging ones leave. My job is to gauge the strengths of the planets in your chart, to find out which planets are strong and which ones are weak. For when a planetary period begins, it will amplify qualities of that planet into your life. If a planet is seen to be strong with many positive attributes, the period will be quite successful.

If a planet is regarded as weak, then we must look at how to remedy the situation, as well as knowing when this period will leave.

As well, there is much more to Vedic Astrology than determining which planetary period you are in. I look at your personal planets in your chart and the planets in transit, to see whether they are affecting you in a positive way or are challenging you. We are most certainly feeling intense pressures these last few years due to the planetary alignments. This will play an important part in your reading.

The Vedic chart reading indicates much regarding your purpose in life and how to bring this purpose to fruition.