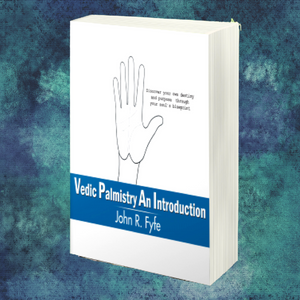 The Real John R Fyfe
Introduction to Vedic Palmistry Group Classes
Introduction to Vedic Palmistry Group Classes ~

Come learn about what the lines in your hand are indicating!
In this palmistry course, we will discuss the major lines as seen in your hand and much more.
Is your heartline moving in the right direction towards your index finger, the Jupiter finger? Is it the same length as your headline or is one line more predominant?
The Heartline shows how we express our feelings while the Headline shows our will and determination.
There is so much to see in both your right and left hand, the active hand signifying your present while the inactive hand your past!
  It is also important to look at your destiny line as this line indicates your purpose in life. 
Is it a short line or is it long indicating strength and determination with your purpose? 
A person without a destiny line is unsure of their path while many lines bring too many choices or in some cases makes a person multifaceted.
The lines in our hands can also change over time growing longer or shorter!
In this course, we will discuss all the key points for you to have a clear understanding of what the lines in your hands are indicating. Great fun!

Group Classes of 90 minutes each for 6 full hours with John R. Fyfe.
Included is a Digital Copy of John's book, Introduction to Vedic Palmistry.

Classes are offered on Zoom or in person & details will be emailed once you purchase the course. The digital book will be emailed at the same time.

Vedic Palmistry & see the world in the palm of your hands.

---
More from this collection